FLOW SS|16
DIRECTOR OF PHOTOGRAPHY | PAT ALDINGER
CONCEPT & FASHION | ANNETTE SCHMITT
COLOR GRADING | JONATHAN SCHUPP
MODELS | JOYCE MODAYA, NATALIE GALLÉE
STYLING | AILEEN HERMANN
FLOAT | 18
DIRECTOR | ANUK ROHDE
DIRECTOR OF PHOTOGRAPHY | PAT ALDINGER
FASHION DESIGNER | ANNETTE SCHMITT
FORMAT | FASHION
NOMINATED | OFFICIAL SELECTION - BFFF 2018
Flow. You can find flow everywhere. In your life, in your surroundings, in yourself.
Flying, Happiness and Freedom, these moments can't be grasped, they have to be lived. Time freezes,
the moment of perfect freedom, to be one with what you really enjoy doing - that is Flow.
Enjoy life, live your flow.
To create moods, share ideas, find inspiration, take fotos, the haptics of new fabrics, flowers, the smell
of colors, the warmth of sun shining through a big coat, transparancy, ease, the peace before sunrise.
Things I love.
Annette Schmitt, fashion designer.
DEGREE AND EDUCATION
2015
Bachelor of Arts in Fashion
2011 - 2015
Pforzheim University, School of Design,
Fashion Department,
Pforzheim, DE
INTERNSHIPS AND Work Experience
2019 / 04
adidas
Designer
Stella McCartney Accessories
+ Collabs Apparel
Herzogenaurach, DE
2017 / 03
adidas
Assistant Designer
Stella McCartney Accessories
Herzogenaurach, DE
2016 / 09 - 2017 / 04
Assistant Designer
Accessories Training
Herzogenaurach, DE
2016 / 04 - 2016 / 09
Design Internship
Young Athletes Apparel
2013 / 03 - 2013 / 08
Âme Sœur
Design Internship
Berlin, DE
2010 / 09 - 2011 / 03
Maßatelier Beerwerth
Kerschensteinerschule Stuttgart Feuerbach
Internship and Education / Tailoring
Stuttgart, DE
2009
London Central Saint Martins College
Fashion Design Course
London, UK
Skills and Languages
Concept Visualisation and Concept Development,
2D Design, 3D Realization, photography, illustration, drape / Tamotsu Kondo, tutor of knitting, research, painting, drawing, Adobe CS, MS Office
German / mother tongue
English / fluent
French / basics
ProjeCTS / COLLECTIONS
2011 - 2015
Found Material, Stella, Woman, Fashion / Architecture,
KOIIOK, BACHELOR-FLOW, FLOW SS|16
2015
FLOW SS|16
Fashion Show
Berlin, DE
FLOW SS|16
DISCOVER ME Young Designer Market
Stuttgart, DE
FLOW // 18
NOMINATED: OFFICIAL SELECTION - BFFF 2018
FLOAT FASHION FILM - Berlin Fashion Film Festival
All we need, to be happy, to be free, forces that can't be grasped, they are within us, they are simply there. Light, almost weightless, you breathed it out and let it enclose us, in moments of happiness, in moments of inner balance, in moments of freedom. To be free, to be one with what you really enjoy doing – that is Flow.
Breathe in, breathe out, full of strength, wrapped in ease. Do what you love, do more of it.
Live your life, jump in, dive in, in your flow, in your flowmoment. Live your Flow.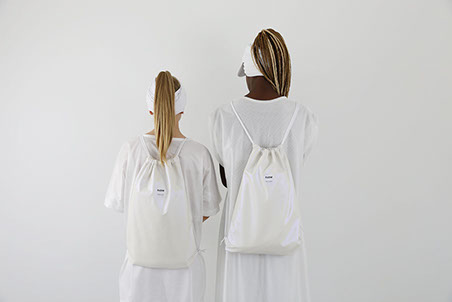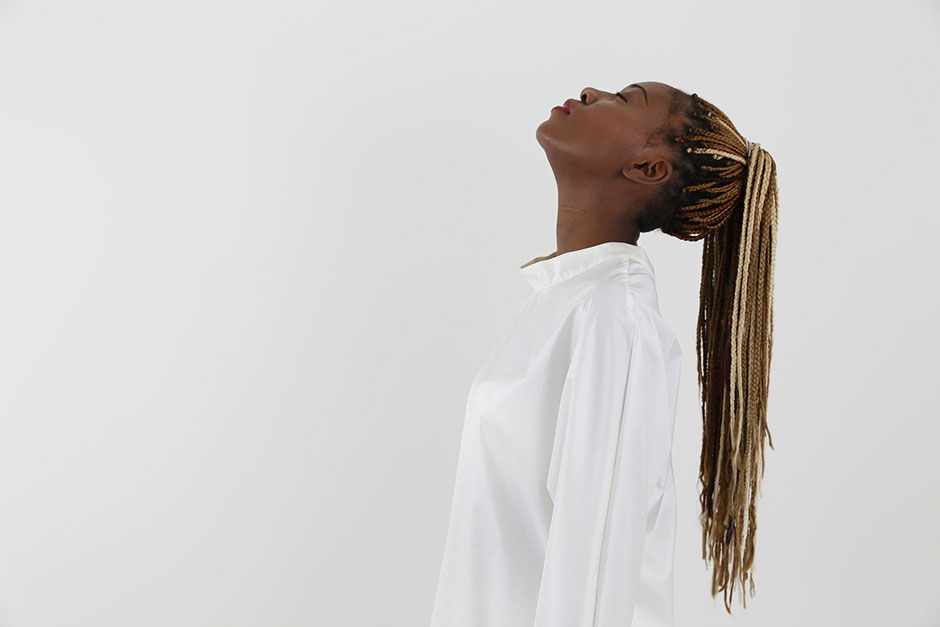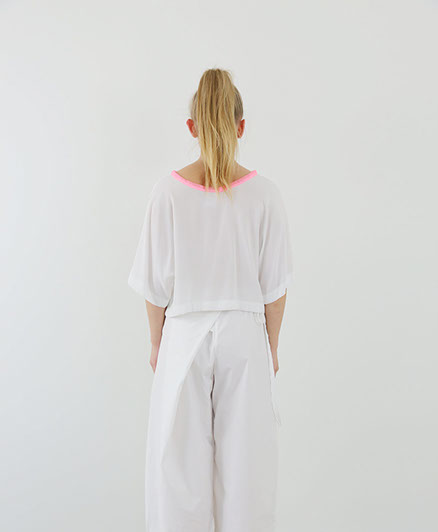 FLOW BA 14/15
DIRECTOR OF PHOTOGRAPHY | PAT ALDINGER
EDITOR | JONATHAN SCHUPP
CONCEPT & FASHION | ANNETTE SCHMITT
MODELS | ANDI SCHMITT, SEBASTIAN WOHNER
JOYCE MODAYA, JOSTA MOJEED, TIARE KELLER, CHARLOTTE SCHRÖCK, NATALIE GALLÉE
MAKE UP & HAIR STYLING | SHADÉ TEAM
Flying, Happiness, Freedom- these moments can't be grasped, they have to be lived.
Time freezes, the moment of perfect freedom -to be one with what you really enjoy doing
– that is Flow.
The Bachelor collection FLOW is inspired by three main elements. First by the world of skating,
based on a skate project in India, second by India -the country, Hinduism with its traditions and
symbols and third: Flow. Flow connects all three elements and flows through them in different
ways, but each with the same intensity. The collection contains two different prints, handmade
drawings, inspired by the Bengal tiger, the national animal of India and by Ganesh, the elephant
god, whose festival is full of Colour-Flow and enthusiasm. Each material contains one colour
pigment of the next and, in that way, intensifies the flow throughout the collection.
Skaters don't just move, they seem to float, gracefully and with an ease which is reflected by the
cheerfulness in their eyes. Each jump fills them with the feeling of being free, of being able to fly.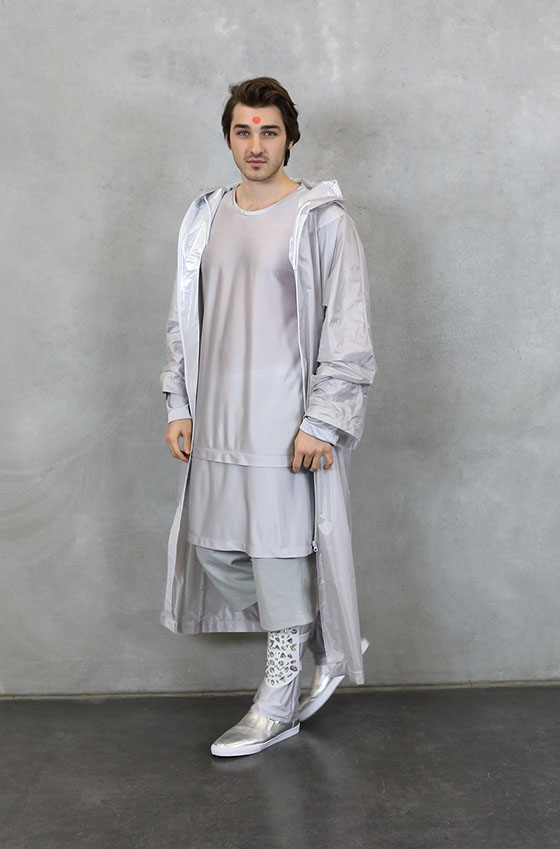 NISHIKIGOI, the Koi
In Japan, they say that the Koi becomes a dragon if it manages to swim up the Yellow River and
the waterfalls, up to the Dragon's Gate. It is the only fish capable of doing that. The Koi stands for
determination and perseverance, it is a symbol of progress and worldly efforts, of courage and the
ability to achieve your aims.
80% of the fish population is overfished and exploited to the biological limits.
85% of the catch in the Mediterrranean goes directly to Japan'sushi industry.
The circle , which you can also see shining red on the flag of Japan, has no end and no beginning –
To fight again and again against aimless consumption.
My collection uses technical and innovative materials, as well as fabrics made from Econyl, taken
from recycled fishing nets. Nishikigoi, the key to my collection, shines through the clear silhouettes.
Combined with Japaneses elements of the Kimono, it shows that as long as there is fish in the
water, the ecological balance is intact.
THE BALANCE.
KOI FISH KOI FUTURE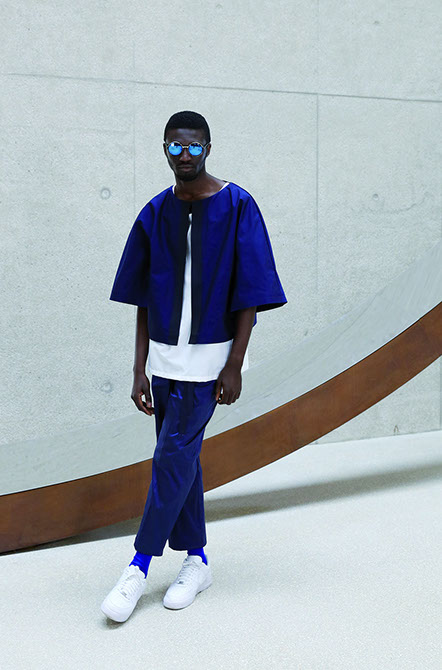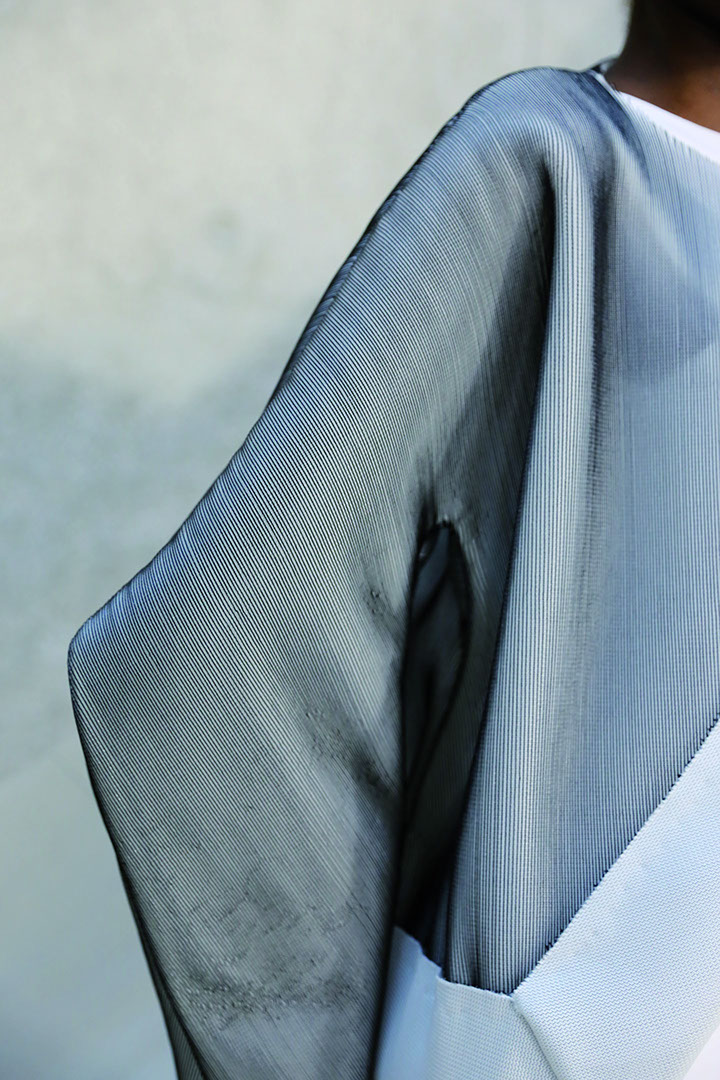 Copyright 2016 by Annette Schmitt